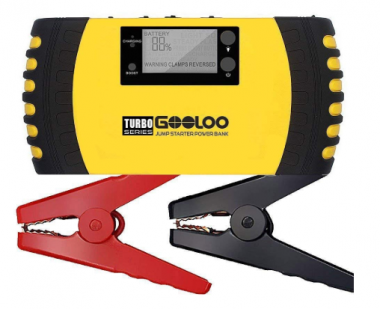 GOOLOO 1000A is a powerful portable car jump starter. It can jump-start Motorcycles, RV, tractor, light-duty trucks, ATVs, snowmobiles, oil boat, and more which work with 8.0L Gas or 6.0L diesel. With its peak current of 1000 Amps, it can jump-start vehicles up to 30 times. The starter is also known as Emergency Life Saver.
Features of GOOLOO 1000A
GOOLOO 1000A Car jump starter has many features which are as follow:
It is a portable power pack that has a peak current of 1000 Amps and a battery capacity of 20800mAh.
It provides safety protection against overcurrent, short circuit, overload, over-voltage, and overcharge.
It has ultra-bright LED flashlight which has 3 modes: Bright, SOS mode, and strobe mode.
It has two dissimilar methods of charging. The unit can be charged with both DC and AC supplies.
It has an LCD screen that displays the status of the battery.
This unit is loaded with high-quality lithium-ion polymer battery cell which helps to make its use easier.
GOOLOO Jump Starter
GOOLOO 1000A is the best portable car battery jump starter. It is a multi-functional jump starter that has four features in it, a LED flashlight, S.O.S Lighting Signal for help, dual USB port, and 10A DC output. The heavy-duty clamps and cables are durable and long-lasting.
The heavy-duty clamps play an important role in it. The clamps of the starter are connected with the terminals of the battery. The red clamp of the starter is connected with the +ve terminal of the battery and the -ve terminal of the battery is connected with the black clamp of the starter.
Auto Battery Booster charger
This unit works as a jump starter pack and has dual USB ports that help to charge devices like Kindle, camera, GPS, tablets, and Smartphones. It has a source power of 20800mAh.
The devices like phones, tablets, cameras, kindle, and others are charged with it at the speed of 2A. It is very necessary to charge the unit before its first use. In 2 minutes, the starter can jump-start a car 4 times.
Included Accessories
The accessories included with  GOOLOO Jump Starter after purchase are as follow:
GOOLOO Jump Starter GP200.
Set 12V heavy duty alligator clamps and cables
UL certified 120VAC wall charger
12VDC car charger
3-in-1 USB cable
12VDC power port adapter
Protective storage case
Product Description
The description of product GOOLOO Jump Starter is as follow:
Brand: GOOLOO
Model: Car Jump Starter
Item model number: Epower-45B
Manufacturer Part Number: Epower-45B
Item Weight: 1.98 pounds
Product Dimensions: 9.8 x 6.3 x 4.1 inches
Mirror Adjustment: Power
Bulb Type: LED
Amperage: 1000 A
Voltage: 12 volts
Final Words
GOOLOO 1000A is the best portable car jump starter. It is very easy to use and assure long life service. The unit is loaded with many features which are very effective and useful. The reviews of the GOOLOO car battery jump starter show that it has proved to be a very successful jump starter that secures you from standing on the road due to battery failure of the car.