Note: PortableCarJumpStarters may earn a commission when you buy through links on our site. Learn More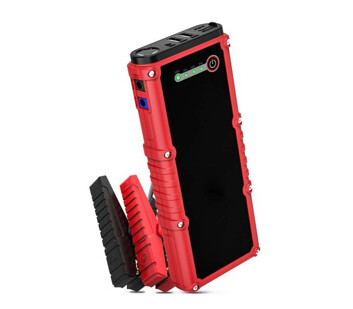 Aickar Jump Starter is a small 800A peak system with a slender body. This booster is also known as an emergency lifesaver. There are two heavy-duty jumper cables, a large battery pack, and outlets for charging electronics with this portable car battery jump starter.
This starter jump 6.5L Gasoline and 4.5L Diesel vehicles with heavy-duty jumper cables. It jumps car up to 30 times with 800s peak current only after a single recharge. It is used to jump cars, tractors, boats with 400 Amps of starting current.
Features – Aickar Jump Starter
Aickar Jump Starter with Lithium-Ion ( Li-Ion) battery of 19,800mAh is capable of charging all USB-compatible devices such as smartphones, tablets, and other devices.
Its bright LED light has three different modes: Bright, SOS feature, and emergency strobe mode.
This battery jump starter recharges fully within 6 hours.
It has two USB ports and two DC connections on the side.
Portable Car Battery Jump Starter
Aickar Jump Starter is a multi-functional starter. It works as the best portable jump starter and also as a Power bank. It is used as a power bank in a variety of electronic devices. It is one of the 800A peak lithium jump starters which helps integrate the large 19,800mAh power bank.
Click Here to know more about portable car jump starters.
Car Battery Power bank
Aickar Jump Starter is a car jump starter powerpack. It can provide enough power to charge USB-compatible devices like smartphones, tablets, laptops, kindle, and more with a battery capacity of 19800mAh car jump starter. With the help of this battery jump Starter, you could start your car within a few minutes. This car battery power bank helps to boost the battery of the car for covering large distances.
Working of Aickar Jump Starter
The system depends on its intelligent jumper cable clamps. The red clamp is connected to the positive terminal of the battery and the black clamp is connected to the negative terminal of the battery. When they are connected rightly and switched ON then a solid green light blaze. If there is an error in connection then it will blaze red light.
The starter protects against five dangers such as reverse polarity, over-current, overload, over-voltage, and over-charge. There is a built-in flashlight on the top of the starter which is helpful in darker conditions.
This car jump starter is constructed with a heavy-duty 8AWG UL1015 jumper cable. It has built-in self-protection IC (Integrated Circuit) to protect the unit from short circuit and over-temperature.
Included Accessories
The accessories provided with the Aickar jump starter are as follow:
Set smart jumper cables
AC adapter
DC car charger
USB cable
12VDC power port adapter
8-in-1 laptop cable
Protective zippered case
Aickar Specifications
The specifications of Aickar Jump Starter are as follow:
Voltage: 12V
Features: Portable
Peak Amps: 800Amp
Width: 3.6in
Height: 1.1in
Length: 8.6in
Final Words
Aickar Jump Starter is a portable car battery jump starter that is very easy to use. It has effective features. Its portable jump box is easy to store in the trunk.
The built-in features of the starter make it very easy to use. It is very useful to check the starter before driving. This powerful car battery power bank helps to cover long distances without making any trouble. Its reviews show that it is a lifesaver and very useful. You can also give this starter as a gift to your friends and others.