Note: PortableCarJumpStarters may earn a commission when you buy through links on our site. Learn More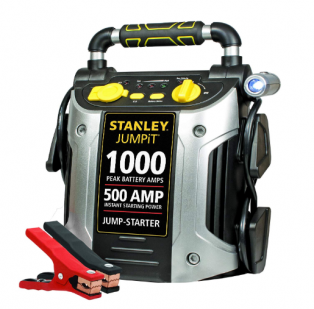 STANLEY J509 Jump Starter gives a suitable portable way to start the battery of the car easily and effectively with 1000A Peak. This Car Battery Jump Starter supplies 500 instant cranking amps and 1000 peak cranking amps. It is the best portable car jump starter that is helpful in daily use or roadside emergencies.
Features – STANLEY J509 Jump Starter
This car jump starter provides a high-powered LED light. This light can rotates 270 degrees to see in low light conditions.
STANLEY J509 Jump Starter has the feature of reverse polarity alarm for safety.
This car battery jump starter is very easy to use and it has a large amount of power stored in it to jump cars, trucks, boats.
It has a USB outlet with a built-in 120 volt AC charger. Two devices can be charged at the same time with the help of USB port and 12 volts DC port.
The built-in 120 PSI air compressor helps to expand the air in the tires.
It is very easy to carry with the help of a metal handle.
Construction – STANLEY J509 Jump Starter
STANLEY J509 Jump Starter comes with a DC charging plug. It has also a pair of heavy-duty metal clamps with #6 AWG cables. Its outer shell is built with powerful, impact-resistant injection forge housing.
When this 1000A car jump starter is started it gives the instant power of 500A. The clamps are connected with the terminals of the battery. If there is a problem in arrangement then the alarm will sound to alert you before turning the unit ON. The unit has a charge indicator that shows the status of charging.
Car Battery Jump Starter
STANLEY car battery jump starter has plenty of power stored in it. it provides the instant power of 500A when it started. This portable jump starter provides the facility of charging electronic devices with 12 volts. Smartphones, tablets, laptops and other devices can be charged with the USB port. It has two ports, a USB port, and a DC port.
STANLEY J509 Jump Starter
STANLEY Jump Starter is a multifunctional car starter. This jump starter has a built-in 120 PSI air compressor for quick expansions of tires and other objects of this kind. You can turn the compressor ON only by using the switch ON or OFF located next to the pressure gauge dial. The sound alert alarms protect batteries from any damage from reverse polarity.
Product Description
The product description of STANLEY jump Starter is as follow:
Model: J509
Item Weight: 8.05 Kg
Product Dimensions: 28.6 x 17.1 x 34.3 cm
Item model number: J509
Manufacturer Part Number: J509
Voltage: 12 volts
Final Words
STANLEY Jump Starter is a potential lifesaver. Its 1000A current assists the batteries of car jump without the need of another vehicle. This car jump starter is very to use and is very effective. This jump starter is very useful for covering a wide range of distances. Its reviews showed that it has proved to be a very successful car jump starter.
[su_button url="https://www.amazon.com/STANLEY-J509-Power-Station-Starter/dp/B003ZYS8UW/" target="blank" rel="nofollow" background="#ff751a" color="#FFFFFF" size="10″ radius="round" icon="icon: shopping-cart"]Buy Now[/su_button]