Note: PortableCarJumpStarters may earn a commission when you buy through links on our site. Learn More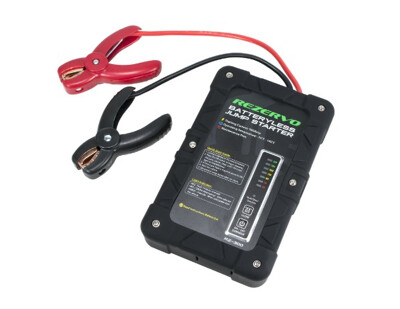 Rezervo RZ-300 is a battery-less jump starter which helps to boost the power of vehicle with the starting current of 300A. With its quick charging mechanism, it helps to jump-start cars, trucks, boats, ATVs, and more.
Unlike other jump starters, it does not need to charge for hours. With a little charge of your car battery, it helps to jump-start the vehicles of 12V.
Features of Rezervo RZ-300
Main features of Rezervo RZ-300 Jump Starter are as follows:
It is designed with ultra-capacitor Technology for cars.
The unit has a voltage indicator which displays the voltage of the battery.
It is designed with drop-resistant rugged rubber casing.
This jump starter can jump-start in any weather condition.
It is designed for professionals and it is very easy to use.
Batteryless Jump Starter (Rezervo RZ-300)
Rezervo RZ-300 is a portable battery less jump starter. It has a light indicator that displays a red and green light. The red light display fault or in case of reverse polarity. The solid green light display when the engine is started. It is very easy to use. Plug the clamps to the battery of the vehicle.
Connect the red clamp to the positive terminal of the battery and connect the negative terminal of the battery with the black clamp. To begin charging the jump starter, press the On/Off button.
Wait until the 14V light on the voltage indicator stops blinking. Press the GLOW button if diesel pre-heat is required. Now, start the vehicle and then disconnect the jump starter from the car.
Ultracapacitor Technology
This jump starter is equipped with ultra-capacitor technology for cars. It provides safety protections such as reverse polarity protection and short circuit protection. In the case of reverse polarity or any other fault, it displays the red light.
This ultra-capacitor car battery needs not to charge. It provides a quick charge to boost the power of the dead vehicle within seconds.
Included Accessories with Rezervo RZ-300
The accessories included with this ultra-capacitor battery are as follows
1 x Rezervo Jump
1 x 12 Volt Charging Cigarette Lighter
1 x Wrench
1 x Storage Bag
Product Description
The description of this ultra-capacitor car battery is as follow:
Brand – Rezervo
Item model number – RZ300
Manufacturer Part Number – JAT-RZ-300
Item Weight – 2 pounds
Dimensions of Product – 12 x 6 x 4 inches
Folding – No
Starting Current – 300A
Operating Temperature – -30°F to 140°F (-34C° to 54°C)
Suitable for Gasoline and Diesel Engines.
Final Words
Rezervo RZ-300 is the best portable car battery jump starter that is designed with ultra-capacitor technology for cars. With this jump starter, you will never be stuck on the road.
It can jump-start vehicles such as cars, bikes, RVs, snowmobiles, trucks, boats, and more by providing the starting current of 300A. It is helpful in emergencies, adventure, camping and more. The other traditional jump starters provide lower cranking current at low temperatures but this ultra-capacitor battery starts the vehicle in extreme hot and cold weather.
[su_button url="https://www.amazon.com/Rezervo-RZ-300-Batteryless-Jump-Starter/dp/B01MYFCWV4″ target="blank" rel="nofollow" background="#ff751a" color="#FFFFFF" size="10″ radius="round" icon="icon: shopping-cart"]Buy Now[/su_button]