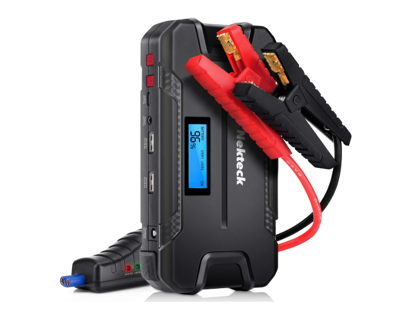 Nekteck Portable Power Bank 500A peak is a powerful car jump starter that jumps start cars, motorcycles, ATVs, lawnmowers, and more with 5L gas or 3L diesel. It can start these vehicles up to 12 times with the power of 500 Amps. It has 500A Peak with 12000mAh. It can not only start the vehicle but also charge devices like smartphones, tablets, speakers, and more.
Features of Nekteck Portable Power Bank
Nekteck provides many features which are as follow:
Nekteck has a built-in super bright LED flashlight which is helpful in dark conditions.
It comes with FREE Cigarette Lighter Adaptor. The 12 volts devices are charged by connecting them directly with a jump starter.
It protects against overcharge, overvoltage, overcurrent, and short-circuit.
External Battery Charger
Nekteck Car Jump Starter has a High Battery Capacity of 12000mAh. The Nekteck Portable Power Bank is a compact powerhouse whose size is compatible with your back pocket.
To use the battery for a long time, it is necessary to recharge the battery at least once in 3 months. Before using the starter, the unit must be charged fully before its first use. You can charge your cell phones and other devices with it.
Emergency Jump Pack
Nekteck Portable Power Bank is an emergency jump pack that has a lot of power stored in it. The peak current of 500 Amps is used to jump-start the vehicle. It is an auto jumper for Smartphone USB devices and more.
This emergency jump pack has a super bright LED flashlight which helps if you become helpless in dark. To turn the flashlight ON or OFF, press the button for over 3 seconds.
Construction
To Jump-Start the 12v vehicle first, turns off the power indicator and connect the blue plug into the host. The red clamp is connected with the positive terminal of the battery and a black clamp is connected with the negative terminal of the battery. If the connection is correct then it will display the green light and if there is an error in it then it will display the red light.
Included Accessories
The accessories included with Nekteck Car Jump Starter are as follow:
1 x 12000mAh Nekteck Car Jump Starter
1 x Car Charger
1 x Cigarette Lighter Adaptor
1 x Micro USB Cable
1 x 100-240V AC Adapter (UL Listed)
1 x Jumper Cable with Battery Clamps
1 x User Manual
1 x Portable Carrying bag
Nekteck Specifications
The product specifications of Nekteck Car Jump Starter is as follow:
Brand: Nekteck
Model: FBA_JS12000-BLK
Manufacturer Part Number: FBA_JS12000-BLK
Item Weight: 1.06 pounds
Product Dimensions: 6.5 x 1.2 x 3.2 inches
Item model number: NK-JS12000
Bulb Type: LED
Special Features: USB Charging
Battery Type: Li-Polymer
Output: 5V/2.4A(2 Ports)
Start Current: 250A
Peak Current: 500A
Voltage: 12 volts
Final Words for this Jump Starter
Nekteck Car Jump Starter is a Portable Power Bank that has high power stored in it. This emergency jump pack has many features that are highly effective and useful. It is very easy to use. It jumps start the vehicle with the peak current of 500A and the battery power of 12000mAh.